Data Recovery:
Baton Rouge, New Orleans, Gonzales, Denham Springs, Prairieville Southern University & LSU Areas
Damage on Hard Drive? STOP! Turn it off now!
Don't make it worse! Mechanical Parts are Involved!
Trust your hard drive's data to 123MACPC!
Data recovery at 123MACPC is a daily part of our business and we know that business well. We can handle most any data recovery in house. Some data recovery projects have to be sent out to our clean room and recovery engineering department. At 123MACPC if can't recover the data the service call is free guaranteed.
Hard drives have high speed 5800 to 7200 RPM platers spinning inside. That is why it is important to turn off all power sources to the hard drive because even more damage can occur. Partition schemes can fail or serious noise can come from the hard disk and be very noticable. This is not good.
123MACPC can fix it in house. We also have our of site engineering facility secured with SOC 2 Type II audited and HIPAA compliant data recovery. They are also equipped with ISO-5, Class 100 cleanroom facilities. After they look at a systemic hd failure they can actullay rebuild your harddisk system: Searching for problems like:
* Motor not spinning up * Read or Write Head-to-platter crash * Controller board failure
Contact Us
Here are some of the most common data recovery symptoms we have seen in the field:
Apple, PC, & Server
Data Recovery Service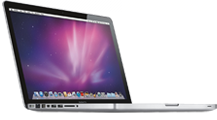 Our Experience with Apple, Macbook Pro and iMac Data Recovery is 100%
123MACPC has been working with customer's Apple data drives & time machine backups since 2008. We have seen just about every data issue on the earth. Don't take a chance letting an inexpericed engineer mess around your precious data.